Women of all ages … women of all playing abilities … enjoying the game of golf.
Interested in playing in fun events, tournaments, hole-in-one pool, enjoy luncheons and winning prizes?  This is the league for you.
Membership
Joining is easy!
Download the membership form here: 9HolerRegistrationForm'17
Who We Are
The Longshore Ladies 9 Hole Golf Association is a diverse group of women that share a passion for playing golf.
During the season (April through October) we play every Thursday morning between 8:30 and 10:30 at the Longshore course in Westport CT.
If you would like to join – download and complete the membership form link above.
And if you have any questions about our group, feel free to contact us using the form here.
Our History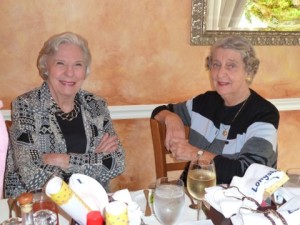 How would you like to start to play at 7:30 am? That was the starting time for the first Sportyniners in the 1970's. A group from the Westport Woman's Club, spearheaded by Lola Gerhardt, decided that they wanted to play nine holes of golf on a regular basis. The approached Emily and George Buck who listened and gave their support. After many meetings with numerous people, a nine-hole group was born. It was not without birth pains.
It began with thirty six women playing the back nine holes on Wednesdays from 7:30 to 8:30 am in foursomes. A group of older male players in the community banded together and convinced Baldy Lee, then Recreation Director, that the women should not be on the same course as the men. The nine-hole women's group schedule was altered, and they were allowed to follow the eighteen-hole women's group. This was not satisfactory to either group. Finally, Emily Buck and Lola Gerhardt were able to convince Lee to agree to assign the nine-hole lady golfers play time from 8:00 to 10:00am on Thursdays.
The nin e-hole lady golfers became officially recognized as a group in 1980 at which time Emily Buck took charge of communications between the Town's Recreation Department and other officials, and Lola Gerhardt organizied the players and coordinated the scheduling. In the early 1980's, New Neighbors wanted to forma a nine-hole league. Because no time would be allotted to another women's group, women from New Neighbors and the Westport Woman's Club joined forces.
In 1984, Co-chairmen Marie Taylor and Ann Donovan drafted a set of rules and regulations, a statement of golf etiquette, the 10 Golden Rules, and other instructions and made all items available to members. The Bylaws initially included a requirement that at least one member of New Neighbors and the Westport Woman's Club be included among the elected officers. this requirement was subsequently deleted from the Bylaws.
In June 1987, the official name of the league became the Longshore Ladies 9-Hole Golf Association. Tee times were changed form 8:00 to 8:33 am to allow men to start before the group began to tee off, and foursomes were changed to threesomes.
The club continues to evolve and grow and in 2003 it was necessary to revert to playing foursomes to accommodate the growing numbers in membership.
In honor of two important champions of the Association's cause, the Emily Buck Tournament and the George Buck Championship golf days are scheduled each year. In 1997, a John Cooper Tournament was added to the calendar.